Biography – Stephen Nemeth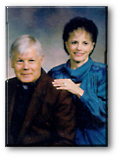 Stephen Nemeth was born to Hungarian immigrants, William Nemeth and Barbara Siska, in Windsor Ontario on June 25, 1928.  His parents were hard working farmers, and after the tragic death of his father, the family worked together with their mother to maintain the farm.  Stephen as one of the younger siblings in a family of 11 children, worked hard on the family farm and was active in the nearby Catholic Church.
In his late teens Stephen traveled West to visit some uncles and aunts in the Lower Mainland.  His plan was to return to St. Boniface Monastary to become a priest in the Roman Catholic Church.  God had other plans for this young man!  He loved to tell the story of his conversion to Christ – how when passing through Kamloops on the train enroute to Toronto, he felt God telling him to get off the train and there would be a job for him.
He found a job and a new friend who invited him to attend Phil Gilardi's church where he heard the simple gospel message and was marvelously converted and filled with the Holy Ghost.  For the first time in his life he felt clean on the inside.  During this time period he was mentored and encouraged to attend Bible school.  He responded to God by saying, "God, I'll go anywhere in the world for You."
Family did not understand his new faith and he felt the pangs of rejection by those he loved most.  But his sails had been set, and he arrived in Eston, Saskatchewan in 1954 to attend the Full Gospel Bible Institute.  He was a rough gem, but had a heart for God, and in the years that followed God polished and prepared him for the ministry that would follow in India.
Stephen went to India with his wife Ella and six month old daughter, Myrna Ruth, in the summer of 1957. He and Ella lived in India for nearly 20 years, and their second daughter, Sharon Joyce, was born up in the mountains of South India.  They returned to Canada in 1974 for the education of their girls, and they chose to live in Prince George, British Columbia where many of Ella's family resided.
India was still very much a part of their lives.  Stephen's heart was to see the Indian Church (The Apostolic Church of Pentecost of India) become indigenous –self-governing and self-supporting.  He traveled to India yearly for 3-5 months at a time, and when home spent many weeks on the road visiting churches throughout Canada to encourage prayer and financial support for the Indian Church.
In early 1975, after a short battle with a brain tumor, Ella went to be with the Lord, leaving a huge hole in the family.  Later that year the girls, Myrna and Sharon, had a long talk with their dad.  They wanted a "new mother"!  They loved their Auntie and Uncle where they lived when their dad went to India, but they wanted their own home again!
Unknown to Stephen, God was preparing a young woman who would become his wife and a mother to his girls, a gal who herself had been a missionary and had worked in a school for missionaries' children in Malaysia with the Overseas Missionary Fellowship.  God orchestrated the meeting of Stephen and Florli, which is another whole story in itself, and they were married January 3rd, 1976 in Calgary, Alberta.
They continued to carry the burden for the work in India, Stephen traveling to India yearly to teach in the Bible school, visit the churches (over 100) and give oversight and direction to the church.  Florli accompanied him from time to time, and when she did not go to India, she kept the home fires burning and maintained his office in Canada.
Stephen never lost his vision for the nation of India and the church that he had helped to father along with Rev. George & Yvone Neilsen, Elizabeth Steeves and other missionaries associated with the Apostolic Church of Pentecost of Canada.  He continued to maintain an apostolic presence there and did whatever he could to see that work strengthened and encouraged.
At the age of 79 he made what was to become his last trip to India.  He left Canada in April 2007, and actually turned 79 in June while in India.  It was a very difficult few months for him as he contracted the chickengunya fever that was so prevalent.  When it was suggested that perhaps he should come home to Canada for medical treatment his immediate response was, "No way!  I'm not a quitter!"
His wife Florli joined him the end of August that year and together they taught in the Bible school, traveled to many local churches, and ministered in the general conference for our pastors and workers toward the end of September.  I believe he sensed this would be his last trip to India, and he was consumed with making sure everything was in order and pastors were on the right track spiritually.
The Church honoured him at the general conference with an honorary doctorate from the International Institute of Arts and Theology for fifty years of ministry in the nation of India.  He then said goodbye to India for the last time, and he and Florli returned to Canada for what would become the last few months of his life.
Stephen held his first great-grandson the end of December 2007, and in early January while in hospital dedicated Isaac Luke Bennett to the Lord, praying and prophesying over him and over the great-grandchildren yet to be born.  On February 13, 2008 he took his last breath and walked through the gates to meet the One he had loved and served for so many years.
We as a family miss him dearly and will always hold him close to our hearts.  To the ACOP of India he was a father who will be sorely missed for years to come.
But Stephen left a legacy of love to his family, to the church in India, and to the body of Christ.  It was his passion to leave something for future generations, and you will find this in his studies on the internet.  It was his desire to make these available free of charge for young pastors and workers anywhere in the entire world!  This is his legacy to you.  Study these Bible lessons for yourself, then teach them in a small group setting or in larger group settings.
Our family is committed to the ongoing care of this website, and we would be delighted to hear how these studies have impacted your life and ministry.  Our prayer is that your life would be enriched through the legacy made available to you.  Write us at sfjudah@netbistro.com or respond on the website.