Biography – Florli Nemeth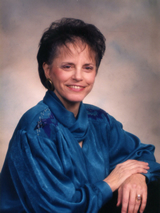 I was born in Chicago, Illinois and moved to Stillwater, Minnesota with my parents when I was eight.
My parents received Jesus into their lives before I was born, so I was raised as a child to know and love Jesus.  I asked Jesus to come into my life at the age of five and was water baptized when only eleven.  At this early age I felt God calling me to give my life to serve Him as a missionary.
I had no idea where this would lead me and struggled through my teens the same as many teenagers do!  My parents sent me to Prairie Christian High School in Three Hills, Alberta, Canada, at the age of 16, and the course of my destiny began to take shape.
My family followed me to Canada a few years later, my father taking a position on the staff of Prairie Bible Institute as a mechanical engineer.  He worked there for nearly 20 years before his retirement.
After four years of Bible College at Prairie I prepared to go overseas with the OMF (Overseas Missionary Fellowship).  I had no idea where this would lead me, but I ended up in Malaysia teaching piano at Chefoo School, the OMF school for missionaries' kids!  I loved my work and thought I would serve God in this place for the rest of my life.  But God had other plans.
My return to Canada at the age of 29 with a diagnosis of depression presented many challenges.  For the next few years I worked for a psychologist at the Foothills Hospital and later as a recording secretary for the Calgary Public School Local.  I poured my life into my career and into ministry with children and young people.
There was a longing in my heart, however, for a deeper relationship with God, and in the process of seeking the Lord I experienced a profound encounter and empowerment of the Holy Spirit.  This experience changed my life.  The depression was healed instantly, and for the first time in my life I could say, "Jesus, I love You."  The reality of His presence was so strong.  I was radically in love with Jesus, with His Word, with His people, and with His church.
A few years after this life-changing experience I met Stephen Nemeth who was to become my future husband.   His wife, Ella Nemeth, who had served God with him in India for nearly 20 years, had recently died.  He was left alone with two beautiful teenage daughters who had grown up in India, Myrna and Sharon.
Stephen and I met in Calgary.  He was a missionary with the ACOP of Canada, and was on his way to India for a three month period of ministry.  The "short story" is, we fell in love and were married a few months later in January of 1976.  We continued as missionaries to India for the next 32 years until the Lord called him home to glory.
I was privileged to walk with my husband in his destiny for over 30 years.  Some years he travelled to India for periods of 3-5 months while I looked after our home and office in Canada.  Other years I was able to travel with him, to minister in India as well as in Thailand, Mayalsia and Malta.  He  travelled also to Japan and Sri Lanka on short mission trips.
Stephen left a legacy for the church in India and around the world as well as for his family.  He will always be remembered as a man who loved his God, his family and the family of God.  The materials you find on this website represent a lifetime of work and ministry.  It was his desire to share the wealth of these materials freely with anyone around the world.  If you are blessed by his teachings and able to share them with others, then our joy as a family is complete!
My destiny continues to unfold before me.  The work of the ACOP of India in Kerala and Tamil Nadu is dear to my heart, and I was able to visit the church in September 2011.  I  continue to teach piano in my home, minister in my local church and in other places as God gives opportunity.  Our children and grandchildren are serving God, and our family is continuing to grow!  We now have three great-grandchildren who are the pride and joy of my life!  The legacy moves on and the story continues.  God is the God of the generations, and I am believing to see my grandchildren and great-grandchildren walking in the destiny God has for them.
Family Stats
Our daughter Myrna married Jim Ewing and they live in Edmonton. They have two daughters, Brittany and Courtney. 
Brittany married Tyler Morse and they have a daughter named Peyton Naomi who was born October 22, 2009. 
Courtney is a hairdresser and will be marrying her best friend, Samuel Sleigh, on Friday, October 5th of this year (just a few days away)!  She and Sam will be making their home in Edmonton for the time being.
Our daughter Sharon married Bob Zayonc, and they have recently moved to the Okanagon.  They have two children – Siyanna and Chamberlain.
Siyanna married Jesse Bennett.  They have two boys – Isaac Luke who was born December 30, 2007, our first great-grandchild born just less than two months before Stephen left this world for his reward in heaven.  Their second son was born on June 25, 2008 – what would have been Papa Stephen's 80th birthday, and he was named Jacob Stephen! 
Chamberlain, is called "Constable Wilt", and he is stationed with the RCMP in Nanaimo, and loving his career.  He also has met the love of his life!  He was engaged to be married to Kaitlyn Hurrie just before Christmas 2011, and they will be married in August 2013.
Our family is growing, and I am believing and declaring that as for me and my house (my family), we will serve the Lord!